Frequently Asked Questions
What is Glamping?
---
Simply put, Glamping is 'glamorous camping'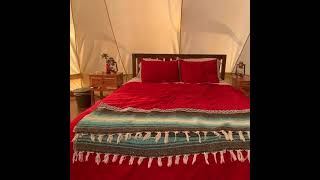 You get all of the benefits of camping including nature, the outdoors, the night sky, barbequeing, etc while sleeping in the comforts of boutique hotel accommodations in your 'canvas cottage' which is a walk-in tent of approximately 200 square feet with laminate hardwood floors, a comfy queen-sized bed with soft sheets and pillows, furniture, chairs and your own private en-suite bathroom accessible only from the inside of your tent with hot/cold running water in your sink and an outdoor shower, with a flushing toilet.
---
What is the Eco-Camps Promise?
---
At every location, you will always enjoy: - Incredible Sunset Viewing Areas - Starry Night Sky away from City Lights - Sounds of Nature - Comfy Queen-Sized Bed to Sleep - Private en-suite Bathroom with Hot/Cold Running Water and Flushing Toilet - Private Outdoor Shower - BBQ - Kids are always FREE - Pets are always welcome and FREE
---
How Many People Can Fit in My Tent?
---
We have two size tents: Queen Tents: - Our Queen tents allow up to a maximum of two adults and up to two children. - This accommodation comes with one Queen bed and up to two single beds. Family Queen Tents: - Our Family Queen tents allow up to a maximum of three adults or up to three children for a maximum occupancy of five people. - This accommodation comes with one Queen bed and up to three single beds.
---
Is Eco-Camps Pet Friendly?
---
Yes, we love your furrry family members! And we do NOT charge you to bring them. Pets must be kept on leashes at all times. If your pet is running free, you will be asked to leave and a refund will not be provided.
---
Does Eco-Camps Charge Extra for Children or Extra Beds?
---
No. One Tent. One Family.
---
What is Eco-Camps Booking Policy?
---
- A two-night minimum is required for all stays - No same day reservations are allowed - Please book at least two days ahead. - We will be unable to accommodate your reservation if it is made after 6PM two days prior to arrival
---
What is Eco-Camps Cancellation Policy?
---
Cancellation is free up to 30 days before your check-in date with 100% refund.
If you cancel within 30 days of check-in, you will not receive any refund, but may use the amount paid as a credit for future dates. Current rates will apply. We do not charge a rebooking fee.
Bookings made using any specials, offers, discounts, or free-nights below our standard rates are non-refundable. Standard Rates are Queen ($189/night for Friday and Saturday, $159/night for Sunday thru Thursday)
Bookings made that include any of the following holiday dates are non-refundable, but changeable with no change fee for 2022 dates include February 12-14, May 27-30, July 1-4, September 2-5 2022
We do allow date changes and we do not charge change fees. Current rates at the time of rebooking will apply.
​
---
What is Eco-Camps Weather Policy?
---
We want you to enjoy your stay, but unfortunately the one thing we cannot control is the weather! - HEAT: When the temperature at any of our locations is going to exceed 75 F degrees at night, we offer you the ability to reschedule your stay, so long as you contact us at least 72 hours prior to your check-in date. - COLD: When the temperature at any of our locations is going to be below 50 F degrees at night, we offer you the ability to reschedule your stay, so long as you contact us at least 72 hours prior to your check-in date. - Unfortunately we are unable to provide refunds, but are happy to accommodate any other dates at any of our locations you would like to book, subject to availability. - RAIN: We do not provide any refunds or the ability to book alternative dates if it rains.
---
Eco-Camps Gift Cards Terms & Conditions
---
All Eco-Camps gift cards can be used for stays at any Eco-Camps location. Terms & Conditions: All gift certificates are fulfilled via email. Please provide your email during checkout so we can get you your gift card. Gift cards can be bought under someone else's name for use as a gift. Reservations for gift cards redemption must be made by email only: reservations@eco-camps.com All gift certificates are final sale and cannot be refunded. A single gift card can only be used once, there are no partial uses of gift cards Gift cards are valid for three years from the date of purchase.
---
Is WiFi Available at All Eco-Camps Locations?
---
WiFi is available on a location by location basis. WiFi is available at Eco-Camps Temecula. If we can provide it we always do, but as we are off-the-grid, we don't bring in anything that isn't already available.
---
Are BBQ's Shared or Does Each Tent Have Their Own?
---
Each tent comes with it's own private BBQ
---
Are Bathroom's Shared at Eco-Camps?
---
Each tent always comes with it's own private ensuite bathroom accessible from only inside the tent you are stayihg in. It is only shared with your tentmates.
---
Is the Water in the Bathroom Drinkable?
---
The water in the bathroom's are not pottable, so no they are not drinkable. We provide bottled water for you to drink and brush your teeth with. Please only drink the bottled water or water you bring yourself to drihk.
---
How Can I Charge My Phone?
---
We provide solar powered usb accessible charges in each tent for phone charging.
---
Do I Need to Bring Sheets/Towels/Pillows/Blankets?
---
No. Please bring yourself and your belongings. We operate like a boutique hotel and provide all the bedding, linens and towels for your stay.
---
Is There Food or Room Service Available Eco-Camps Temecula?
---
No. We do not have any food available at our locations. There is no room service available, and there is no delivery available.
---
Is There Parking Near My Tent?
---
At Eco-Camps Temecula parking is available at the front entrance is the designated parking area. You are not allowed to drive your car beyond the parking lot. The tents are a short walk away.
---
What is Contactless Check in?
---
Eco-Camps provides for contactless check in. After you make your reservation and before you arrive for your stay, you will be provided with a Welcome Packet that will have all the information on how to operate your accommodations. Separately, a tent number and combination for your tent lock with be provided by reservations@eco-camps.com for you to check yourself in.
---
What are the Check in and Check out Times?
---
Check in time is always 3pm - 6pm local time. - We are able to offer late check in times at some locations - Please request your later check in times through reservations@eco-camps.com - We can not offer early check-in times Check out time is always before 11am local time. - We can not offer late check outs
---
Are There Quiet Hours at Eco-Camps Temecula?
---
Yes. Eco-Camps is for couples and families, and friends catching up. We ask that your respect your neighbors adventure, and the between the hours of 10pm until 9am you keep your voices down inside your tent. If you are outside your tent during those hours, we ask then you do so in quiet and enjoy the night and morning air.
---
Is Cellular Service Available?
---
Yes, depending on your service provider it works ok at Eco-Camps Temecula, but Eco-Camps cannot guarantee it and is not responsible if it is not available. We do provide WiFi as an additional feature but do not guarnatee it's effectiveness throughout the location. We cannot offer refunds if either is not available. Please check with your carrier.
---
What Cooking Items are Available?
---
We provide the following items: - 1 cooking pot - 1 cooking pan - 1 cutting board - 1 tea pot - 2-3 Cooking utensils - 1 cutting knife These are all to be used on the grill. You may bring your own cooking items. Electic stoves or heating elements of any kind and not allowed at Eco-Camps and you will be asked to remove it. It is a fire hazard.
---
Do You Have Fire Pits at Eco-Camps Temecula?
---
Fire Pits are not available at Eco-Camps Temecula due to fire hazard. You are not allowed to create your own fire pit. If you do you will be asked to leave immediately with no refund, and we have the right to charge your card a $500 fine plus any damage. We take safetly very seriously.
---
What Do I Do If I Have a Maintainence Issue?
---
Please review your Welcome Packet for the direct contact based on your location.
---
Does Eco-Camps Have Laundry Service or Extra Linens / Towels?
---
We do not provide laundry service or extra linens or towels. If you are staying for more than four nights, please contact reservations@eco-camps.com and we will accommodate you.
---
Can I Bring My Hairdryer?
---
No. Haridryer's are not permitted. They are a fire hazard. If you use a hair dryer you will be asked to leave, and there will be no refund.
---
Do You Provide Fans?
---
Yes, Fans are provided are Eco-Camps Temecula
---
How Much Bottled Water Does Eco-Camps Provide
---
Each tent will stocked with 10 bottles of water. Any additional bottles of water needed will need to be sourced by the guest at their own responsibility.
---
Does Eco-Camps Provide Dishes and Utensils?
---
Yes. Each tent comes with a full set up for 4 or 5 people including plates, bowls, fork, knife, spoon, mug and sometimes a wine glass.
---
Does My Cooler Come With Ice
---
Yes, ice is provided in your cooler upon arrival. If you need more, it is your responsiblity. The Aguanga General Store is just 5 minutes down the road on CA 79. Please check their hours: http://aguanga-store.edan.io/
---
Does Eco-Camps Provide Soap and Shampoo
---
Yes, the following is provided: - Body Soap - Hand Soap - Shampoo - Hand Sanitzier
---
Dioes Ec-Camps Have COVID-19 Protocols?
---
WHEN YOU STAY AT ANY ECO-CAMPS DESTINATION, SOCIAL DISTANCING COMES NATURALLY ​ THESE ARE OUR PROTOCOLS TO CREATE A SAFER ENVIRONMENT DURING COVID-19 ​ Eco-Camps has always enabled our guests to socially distance by staying in our Eco-friendly accommodations in natural settings where other forms of accommodation could not be built. Privacy, social distancing and Contact-less Check-In are all part of the experience. ​ We have always known the health benefits that come with being out in nature which is why when you stay at an Eco-Camps destination, you don;t walk into a lobby to check in, and artificially enclosed spaces are replaced with majestic outdoor landscapes and experiences. ​ Our air-conditioning is the fresh clean air that surrounds your tent. You go from your car directly to your tent, with no human interaction necessary (unless you request it) Our hallways are winding paths or trails through open fields or spaces Our bathrooms are all en-suite and private but outdoors The safety and health of our guests and employees is Eco-Camps' top priority. We will continue to closely monitor recommendations from the Center for Disease Control and Prevention and World Health Organization regarding the Coronavirus (COVID-19). In order to maintain a safe environment we will make continuous adjustments based on the guidelines set by these agencies and local health departments. Please check individual destination pages for destination-specific service changes and cancellations.
---
Does Eco-Camps Have COVID-19 Cleaning Protocols?
---
CLEANING PROTOCOLS AND PIECE OF MIND By design, Eco-Camps is an open-air accommodation experience. There is no recirculated air between any accommodations or common spaces. Our destinations accommodate a small number of guests each night with significant open space between tents. We strive to maintain the highest level of standards with our cleaning and housekeeping and our staff has been trained to follow industry protocols. In addition, we are implementing further practices as recommended by the CDC including the increased frequency of our cleaning as well as using appropriate disinfectants during our ongoing housekeeping efforts. Each tent contains hand sterilizer, disposable gloves and masks for your use. All common bathrooms with attendants to continuous keep these areas clean. We ask that any guests who are not feeling well to please stay home out of respect for other guests and staff members.
---
---